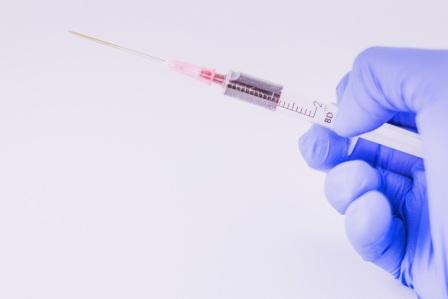 For the rise in the outbreaks of the disease, health officials blame the floating population in port towns of the district and some communities who are resisting vaccination programme.
There has been a rise in the cases of measles in Kutch for the second year in a row. Between January to March this year, the district has already recorded five outbreaks of the disease. However, for the rise in the outbreaks of the disease, health officials blame the floating population in port towns of the district and some communities who are resisting vaccination programme.
Out of the 10 talukas of the border district, nine have recorded cases of measles this year, with Rapar taluka being the only exception. According to official data, 134 suspected cases of the viral disease had been reported in the district as of April 7. Bhuj taluka has recorded 50 cases, the highest among all talukas. Coastal Gandidham and Mundra were second and third, with 33 and 19 cases respectively.
Gandhidham is home to Kandla port while the Adani Port and Special Economic Zone (APSEZ) is located in Mundra taluka and these towns have huge migrant populations. Anjar, which borders Gandhidham, has recorded 14 cases, the fifth highest in the district. The remainder of the cases have come to light from Bhachau (5 cases), Mandavi (5), Abdasa (4), Lakhpat (2) and Nakhatrana (2).
Not only this, the district has already recorded five confirmed outbreaks of the disease, meaning five or more suspected cases of measles were reported from a small area and laboratory tests returned positive for the infectious disease. Two of these outbreaks have been reported from Bhuj taluka while Mundra, Gandhidham and Mandvi have reported one outbreak each. A suspect measles outbreak has also been reported from Anjar taluka and laboratory results are awaited, data show.
These six outbreaks in Kutch have been reported in three months since January. Three of them were reported in March alone. February had seen two while one was reported in January. While five of these outbreaks have been confirmed to be outbreaks of measles, laboratory results in one case is still awaited.
These figures are higher as compared to the corresponding period last year. The district had reported 112 cases of measles in the first three months of 2017. The previous year had also recorded 11 confirmed outbreaks of the disease, with Bhuj taluka again topping the list by accounting for six of them. Mandavi had recorded two while Lakhpat, Gandhidham and Anjar had reported one outbreak each. In all, 223 cases of the viral disease were recorded in the district in 2017.
Dr Rupali Mehta, deputy director of health (RDD) for Saurashtra and Kutch regions, said they were concerned. "The incidence of measles cases in Kutch is on the higher side and we have to be worried about it. But we are taking prompt action. We are sending our teams to villages and clusters from where case are coming to light and taking preventive measures," she said.
The RDD said that the immunisation rate as per e-Mamta, a state government system of tracking mothers and children, was more than 90 per cent in the district. "But measles has been persistent mainly due to two reasons. Firstly, there is a resistant population who are not allowing their children to be vaccinated due to wrong beliefs and secondly, there is floating population in port towns like Gandhidham and Mundra,"said Dr Mehta.
The officer added that maldharis (cattle-herders) of the district who migrate locally have been resisting immunisation programme of the government despite persuasion, hence the number of cases remains high in Bhuj taluka. "In December last year, we had undertaken a huge immunisation drive in Kutch under Mission Indradhanush. Health officers from state and Centre tried to persuade community leaders about the benefits of vaccination. But the effort did not yield much success," rues Dr Mehta.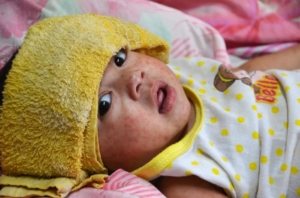 Mission Indradhanush is an initiative of the Central government for vaccinating every child below two year of age and pregnant women to give them protection against seven diseases. As part of health services of government, state health officers and workers organise vaccination drives, called Mamta sessions, in villages periodically. But Kutch has a large population of cattle-herders, especially in Banni grassland area spread in Bhuj and Nakhtrana talukas and also in Rapar and Bhachau talukas. This community, officers say, are resisting the immunisation drive.
Kutch is the largest district of Gujarat in terms of geographical area. Its geographical expanse is 45,652 square kilometres, which is more than 23 per cent of the total area of the state. Besides two big hospital in Bhuj and Gandhidham towns, there are 67 primary health centres (PHCs) and 17 community health centres (CHCs) in the district run by the state government. But officers say that at this rate, every PHC has to cater to an area of around 40 square kilometres. The 2011 census had pegged the population of Kutch to 15.83 lakh but health officers say it has increased significantly.
Dr Mehta said they were conducting door-to-door survey in coastal towns every month to tackle the disease. "Since these towns have a very high percentage of migrant population, the prevalence of the disease remains high. Under Mission Indradhanush, we are now conducting door-to-door survey and doing headcount to identify children who have dropped out of vaccination system or have been left out of it. We are hopeful of the drive producing positive results in coming days," she added.
But doctors practising in the district say the government numbers don't reflect the true picture. "There is heavy under-reporting of the cases. In fact, the actual number of cases in one of the coastal talukas is three times higher than government records. In remote areas, the vaccination drive leaves much to be desired," said a medical practitioner of Kutch on the condition of not being identified.
Besides Kutch, measles outbreaks have been reported from neighbouring Patan district as well as from Bhavnagar and Dangs districts of Gujarat this year.