Treating obstructive sleep apnea (OSA) in patients with epilepsy leads to better seizure control, according to the largest study to date looking at the association between this common sleep disorder and neurologic outcomes. The results were presented by Cleveland Clinic researchers at the 2017 annual meeting of the American Epilepsy Society in Washington, D.C.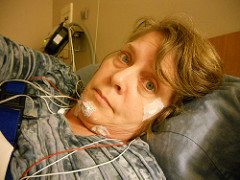 "It's well established that managing sleep apnea — which is highly prevalent in both the general population and people with epilepsy — can improve mood, quality of life and cardiovascular health, but our series highlights the impact it can have on seizures," says the study's senior author, Nancy Foldvary-Schaefer, DO, MS, Director of Cleveland Clinic's Sleep Disorders Center.
The mechanisms underlying the high prevalence of OSA in adults with epilepsy are poorly elucidated, but they likely include the effects of antiepileptic medications on upper airway muscles and weight gain due to medications and a sedentary lifestyle.
Most neurologists are not trained in sleep medicine and don't routinely screen for common treatable sleep disorders, notes Dr. Foldvary-Schaefer, who also holds an appointment in Cleveland Clinic's Epilepsy Center. "But it's not difficult to recognize and treat sleep apnea, and detection can be easily integrated into routine visits," she says.
Building on previous work
The current study expands on an earlier retrospective review of the records of 132 adults with epilepsy who underwent sleep studies at Cleveland Clinic from 1997 to 2010. In that study, Dr. Foldvary-Schaefer and her colleagues compared seizure outcomes at baseline and at one year after polysomnography to evaluate for OSA. The research was published in Epilepsy & Behavior in 2014 and found that, after multivariable analysis, patients with epilepsy and OSA who were treated with positive airway pressure (PAP) therapy had 32.3 times the odds of having a ≥ 50 percent reduction in seizures compared with patients with untreated OSA.
In the latest report, the researchers expanded the study population to 197 subjects and followed them for a mean of 5.4 years (versus six to 12 months in the initial study). They also measured adherence to PAP therapy and controlled for changes in antiepileptic medications to address the possibility that improvements in seizure control observed in the original series were due to medication adjustments.
Of the 197 patients in the current study, 122 (62 percent) had OSA. Among those 122 patients, 73 (60 percent) were on PAP therapy and 49 were untreated. Among those on PAP therapy, 73 percent were adherent to the therapy, which was defined as ≥ 4 hours of use for at least 70 percent of nights.
Results echo prior study
The results were quite similar to the first analysis in that rates of a successful seizure outcome — defined as either ≥ 50 percent seizure reduction from baseline or freedom from seizures at both baseline and follow-up — were significantly higher in PAP-treated patients (85 percent) than in patients with untreated OSA (55 percent; P < .001 vs PAP-treated group) and in patients without OSA (65 percent; P = .007).
Specifically, 63 percent of PAP-treated patients had a ≥ 50 percent seizure reduction from baseline at one year versus 14 percent of untreated OSA patients and 44 percent of patients without OSA.
How the findings have shaped Cleveland Clinic practice
Based on the findings of the initial study cited above, Cleveland Clinic's Epilepsy Center has been routinely screening patients for sleep disorders since January 2016 through the Knowledge Program, an electronic data entry system developed by Cleveland Clinic's Neurological Institute for tracking patient-reported outcomes. "This gives our Epilepsy Center clinicians a better chance of detecting high-risk patients," Dr. Foldvary-Schaefer explains.
"I don't know of any other epilepsy center in the country routinely screening for sleep disorders," she adds. "Screening patients electronically saves time for busy clinicians who otherwise may not have the time or opportunity to address sleep issues. We recommend that all patients with epilepsy, regardless of type or seizure status, be proactively screened for OSA and treated with PAP if they test positive for the condition on polysomnography."
Next up: Insomnia's impact on seizures
Next on the team's agenda is a prospective study of the impact of insomnia, the next most common sleep disorder after OSA, on seizures. Patients will be randomized to a computerized insomnia program consisting of six weeks of cognitive behavioral therapy or to a control group.
"Since 30 to 40 percent of people with epilepsy don't achieve seizure control with medications, sleep therapies represent an additional, untapped therapeutic strategy," Dr. Foldvary-Schaefer explains.